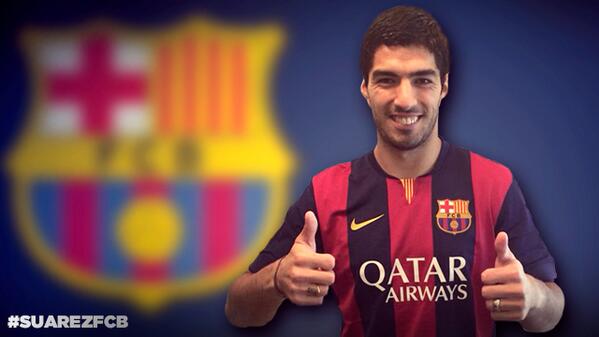 It has been confirmed today that Liverpool FC have come to an agreement with FC Barcelona on the sale of controversial Uruguayan striker Luis Suarez, for a fee believe to be in the region of 70+ million – The third highest paid for any one player. The announcement comes just days after Suarez's appeal to FIFA over his four month football ban was rejected, the former Liverpool striker received this ban after he was deemed guilty of biting an opposition player at this summer's world cup in Brazil, it is the third time the striker has been found guilty of biting and was banned from all football activity for the next four months, which includes being able to train with the club, or use clubs facilities – he is even banned from entering any football stadium.
Why would Barcelona buy a player they can't use for four months! Well despite how controversial Luis is with his 3 biting offences as well as a racism charge there is no denying the Uruguayan's talent and that he is one of the best players in the world and is up there with the likes of Thierry Henry, Eric Cantona, Teddy Sherringham who have all lit up the premier league with their excellence, and for sure he is a player that Liverpool will struggle to replace players like him are a rare breed. But what are Barcelona going to get? Well Luis Suarez provides magic and goals. One of the biggest stars on the global football stage is going be playing at the Camp Nou having just scored 31 goals to top the scoring charts in the Premier League and was tied for the 2013/14 Golden Boot with Cristiano Ronaldo.
Luis Alberto Suarez Diaz (January 24, 1987, Salto, Uruguay), started out at Club Nacional de Football in Montevideo, where he played until 2006, before moving to Holland to join Groningen at the tender age of 19. A season later he switched to Ajax Amsterdam, where he was soon one of the biggest stars. He was top scorer in the 2009/10 Eredivisie and led Ajax into the Champions League. In late 2010 he featured in five games in what has so far been his only experience of Europe's premier club competition. Shortly after, in 2011, he was set for Merseyside.
His goals soon won him a starting place on Merseyside, where he continued his record of always scoring at least ten goals a season in his professional career, be that in Uruguay, the Netherlands or the UK.
At Anfield, his stats have improved along with his team's performances, which almost resulted in Liverpool winning the championship for the first time in 24 years. In a wonderful last season, he scored 31 goals in 33 games.
The Uruguayan is quick and unpredictable and can shoot with either foot, making him a lethal addition to any strike-force. But Luis Suarez doesn't only score – he also provides assists. In 2007/08, his team-mate Klaas-Jan Huntelaar topped the Dutch scoring charts with 33 goals, 17 of which had come from Suarez assists. And last season, more than half of Daniel Sturridge's 21 Premiership goals, 12 in all came from passes delivered by the Uruguayan. The two combined broke the all-time EPL goal scoring record for an attacking duo with their 52 goals.
Suarez's speed makes him the perfect centre-forward, but he can also play on the right or left – It makes no difference, he'll still get his team goals. Luis Suarez is also the main man in his national team. He led Uruguay to the Copa America 2011 title, where he was also named Player of the Tournament. Along with Diego Forlan and Edinson Cavani, he also played a key role in getting Uruguay into the 2010 world cup semi-finals.
Even if he is going to be missing till late October I still think he'll be among the top goal scorers in La Liga and any team that sees a forward line of Suarez, Messi and Neymar at any one time know they'll have their work cut out.
Here is what Liverpool manager Brendan Rodgers had to say about losing his star striker:
"Luis is a very special talent and I think him for the role he has played in the team in the past two years, during my time at Liverpool. I think he would be the first to accept he has improves as a player over that period, along with the team and has benefited from being here, as we have benefited from him. The club have done all they can over a sustained period of time to try to keep Luis at Liverpool. It is with great reluctance and following lengthy discussions we have eventually agreed to his wishes to move to Spain for new experiences and challenges. We wish him and his young family well; we will always consider them to be friends."
So now Brendan Rodgers has his work cut out to replace him and Luis Suarez also made a statement of his own and here is what he had to say:
"It is with a heavy heart that I leave Liverpool for a new life and new challenges in Spain. Both me and my family have fallen in love with this club and with the city. I wish Brendan Rodgers and the team well for the future. The club is in great hands and I'm sure will be successful again next season. I am very proud I have played my part in helping to return Liverpool to the elite of the Premier League and in particular back in the Champions League. Thank you again for some great moments and memories. You'll Never Walk Alone."
As a football fan and a supporter of a Premier League team myself it is a shame to see the talent that is Luis Suarez leave the league but the league has gained another outstanding talent in Alexis Sanchez, and for Barcelona as Sanchez went one way it allowed them to announce the former Liverpool striker as their new number 9.
So Liverpool fans who would you want as his replacement? And are you worried about the coming season?
Thanks For Reading
Tom
@TomWalkeden